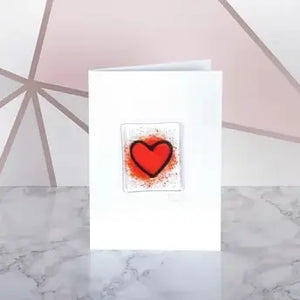 Wadsworth Atheneum
Handmade Fused Glass Greeting Card - Red Heart Card
Regular price
$10.95
$0.00
Unit price
per
Our glass greetings cards are a lovely piece of original art to gift to someone. These greetings cards are the hearts these hearts come in various shades. As all the cards are handmade in-house at our studio in Abergele, North Wales every piece of glass will have a slightly different arrangement of color so cards are individual to the buyer and receiver which means you can have something a little bit different to everyone else. These cards are often framed so the recipient can keep it and enjoy it for longer. The advantage of being made from colored glass is that the card will never lose its color and fade so it can be enjoyed forever.
Details
- Glass on greeting card (approx. 6cm x 5cm)
- Mounted on 300gsm quality white card (approx. 15cm x 10.5 cm)
- Blank inside for you to write any message.
- The card comes with a white envelope.
- Made in United Kingdom
- Weight: 1.6 oz (45.4 g)
---